VAPIANO TOURS
INTIMATE WINE TOURS IN ITALY
JOIN US IN 2024!
PIEDMONT + LIGURIA: MAY 19-27, 2024

*Check back soon for additional dates and new itineraries!*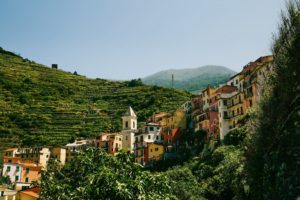 WELCOME TO VAPIANO TOURS!
We travel on a local level offering opportunities to engage with the people and places behind the products… small artisanal wineries, cheesemakers, chocolatiers and coffee roasters. Italians have a long history of multi-generational artisans and they are eager to share their craft with you!
Experience the expansiveness of time in this immersive setting as you explore a connection to wine through storytelling and lively multi-sensory adventure in the vineyard and cellar.
A Slow Pace
A thoughtfully curated itinerary has been created for you to fully enjoy the beauty of Italy at a relaxed pace. The Piedmont + Liguria Tour includes a lovely balance of time in the city, countryside and sea, visiting artisan winemakers and other local, boutique producers. You will be warmly welcomed into the homes, cellars and workshops of our Italian friends for an interactive and unique look into the art of their crafts.
Personal Guide
Katie is your friendly guide through the bountiful world of Italian wine. She believes that learning about wine flows more easily when tasting at its source. So grab a glass and head with her to Piedmont's famous Langhe hills!
Grape to Glass
Learn about the art (and some science!) of grape growing as you walk the vineyards with the producers. Move into the cellar to deepen your understanding of the quiet nature of fermentation and aging. Then head to your seat around the table and enjoy the end result – with a greater comprehension of the intricacies and considerations that go into producing a superlative bottle of wine!

I had never taken a group tour but the itinerary and details of the trip made me want to sign up immediately. Such careful planning went into all aspects of the trip. What was most appealing was the focus on food and wine and enjoying both in enchanting places.

– Susan Reynolds
We can't thank you enough for the best trip we have ever had!
– Diane Gilman
CIAO ITALIA!
From the Alps to the Mediterranean—welcome to two spectacular regions in Northern Italy!
Piedmont/Piemonte is renown for its wine (and is home to two of Italy's most esteemed reds — Barolo and Barbaresco), fine chocolate, white truffles, and the Slow Food movement (and so much more)… a rich gastonomic landscape amid rolling hills of the Langhe wine region and majestic mountainscape to the North…
…while the breathtaking coastline of Liguria, along the Italian Riviera, boasts the most colorful cliffside villages, seaside olive groves & terraced vineyards… and some of the best pesto, seafood dishes and focaccia in all of Italy.
Vapiano Tours | katie@vapianotours.com